Cute Strawberry Printed Kids Safety Open Umbrella
This Cute Strawberry Printed Kids Safety Open Umbrella can make kids excited raining on a school day! This Children Safety Open Umbrella is super easy and safe to operate. We incorporate a special safety runner not only children can smoothly open and close the umbrella but also can protect their little finger from being pinched. Moreover, we add a safety tip so no one will be poked accidentally. It also has a reflective closing band not only to keep this Printed Kids Safety Open Umbrella tidy when closed. It also serves as a high visibility light to alert drivers in low light rainy conditions.
Most umbrellas are typically destroyed when they are flipped inside out. But with This Cute Strawberry Kids Safety Open Umbrella canopy does flip inside out, the resilient Fiberglass (FRP) Ribs simply bounces back unbroken to its normal shape time after time. A metal shaft is durable material for kids that are sometimes clumsy. It also has a plastic handle that has non slip grip property.
Thanks for visiting Hyades Umbrella. Any questions, please do not hesitate to contact us at your convenience. We reply any emails within 24 business hours. Your satisfaction is always our driving force!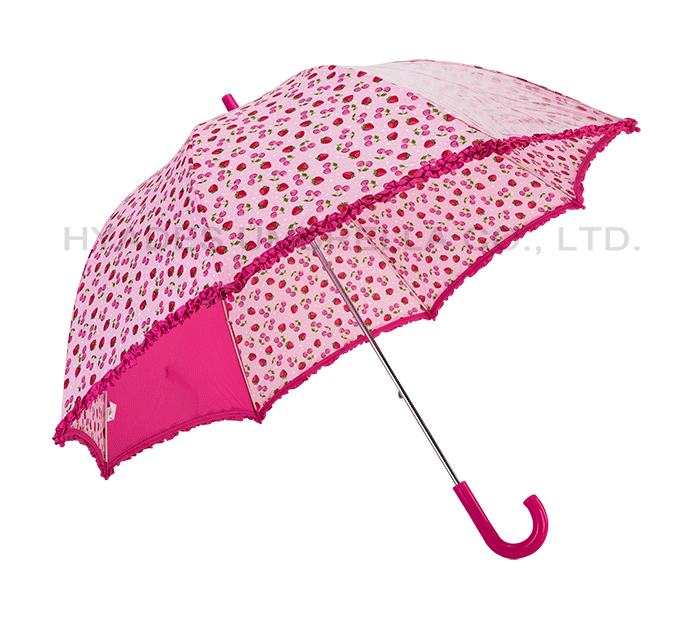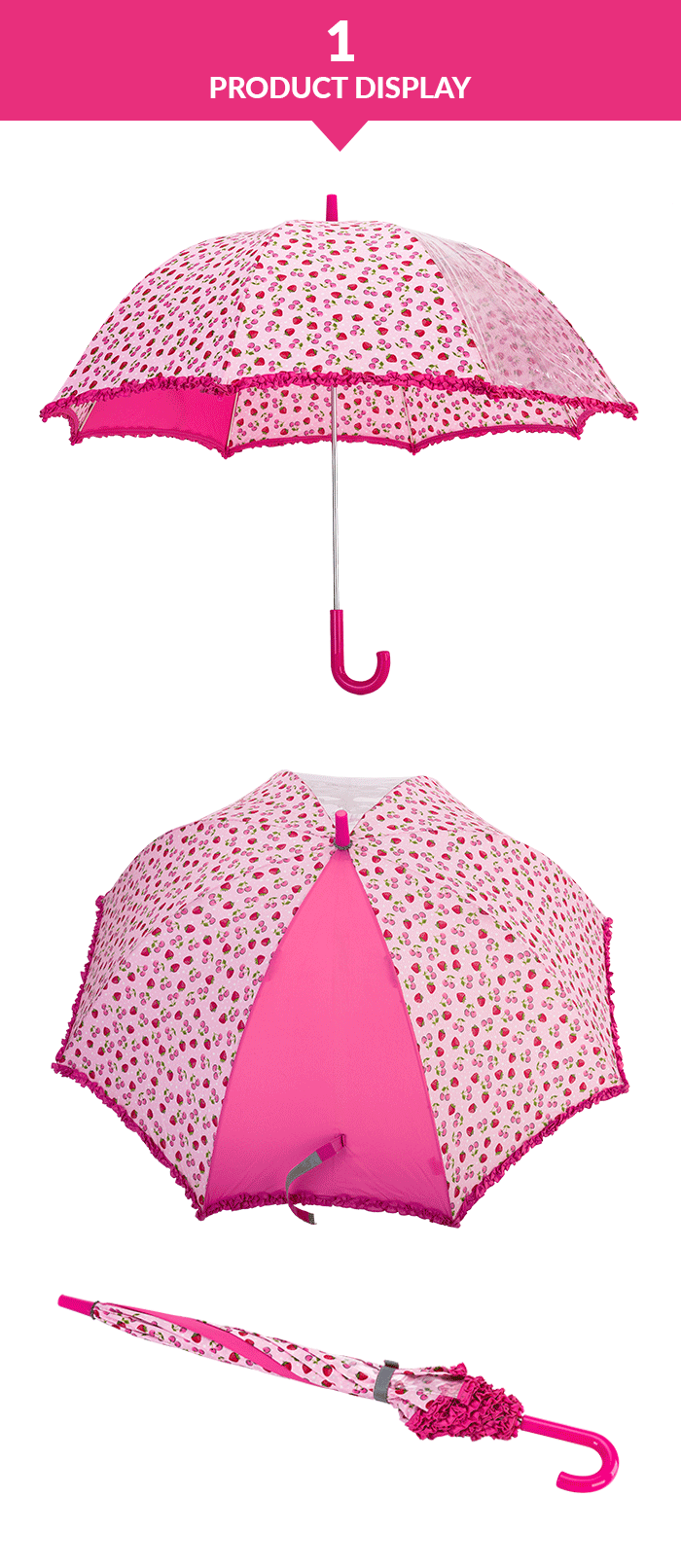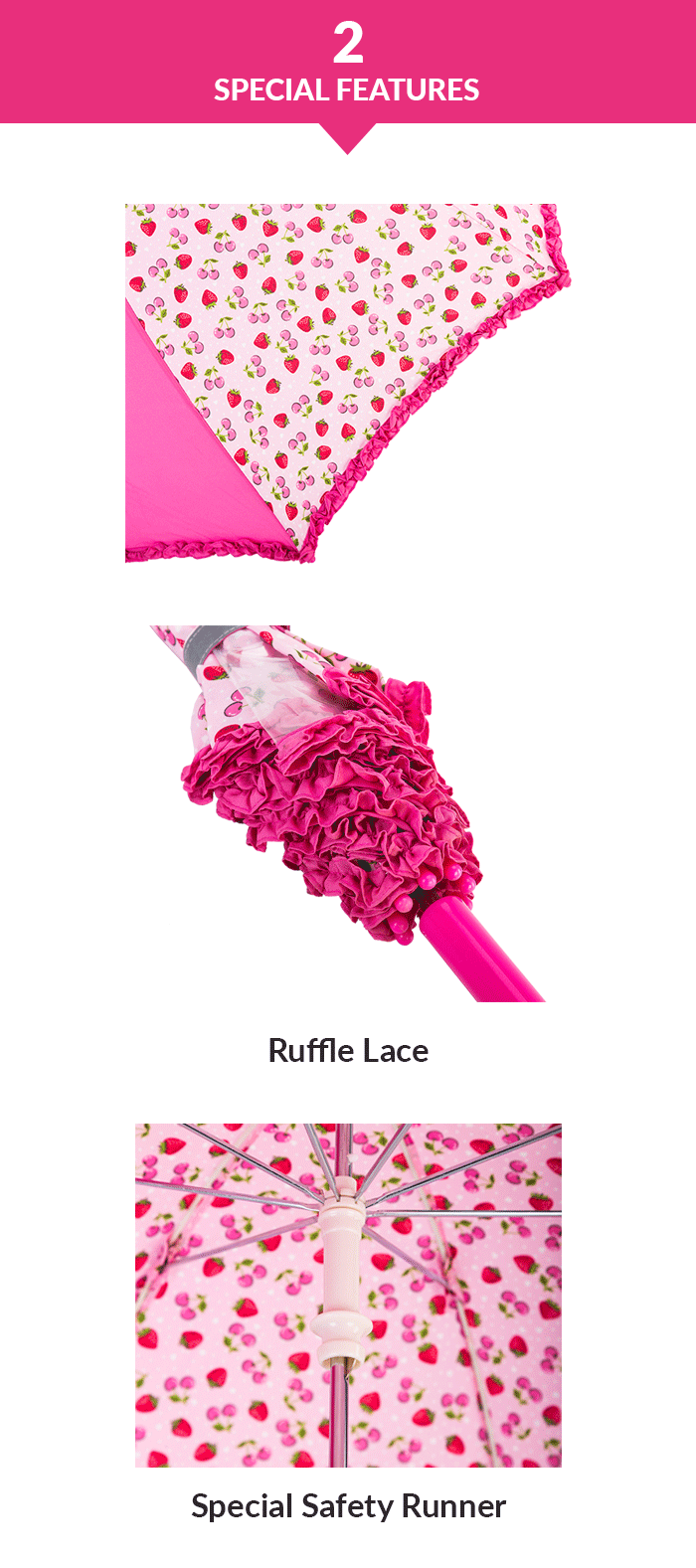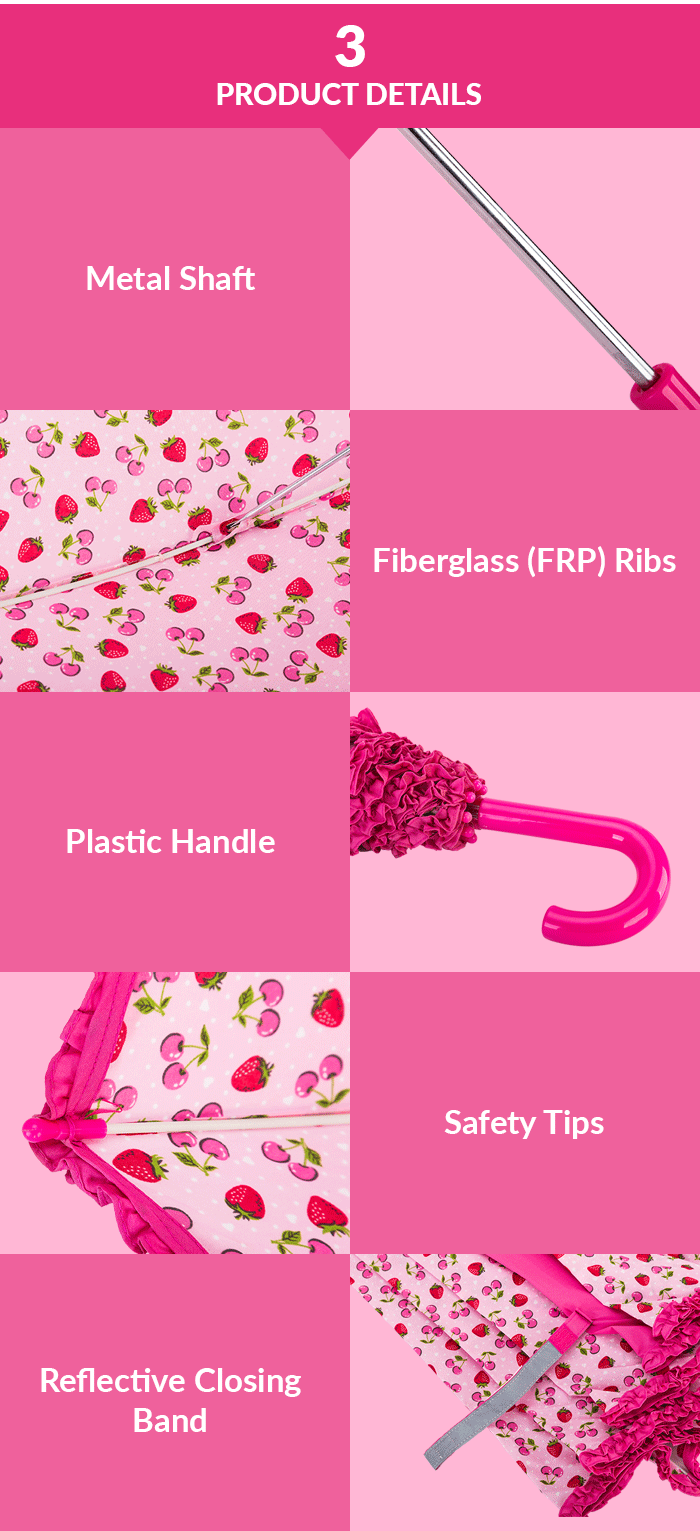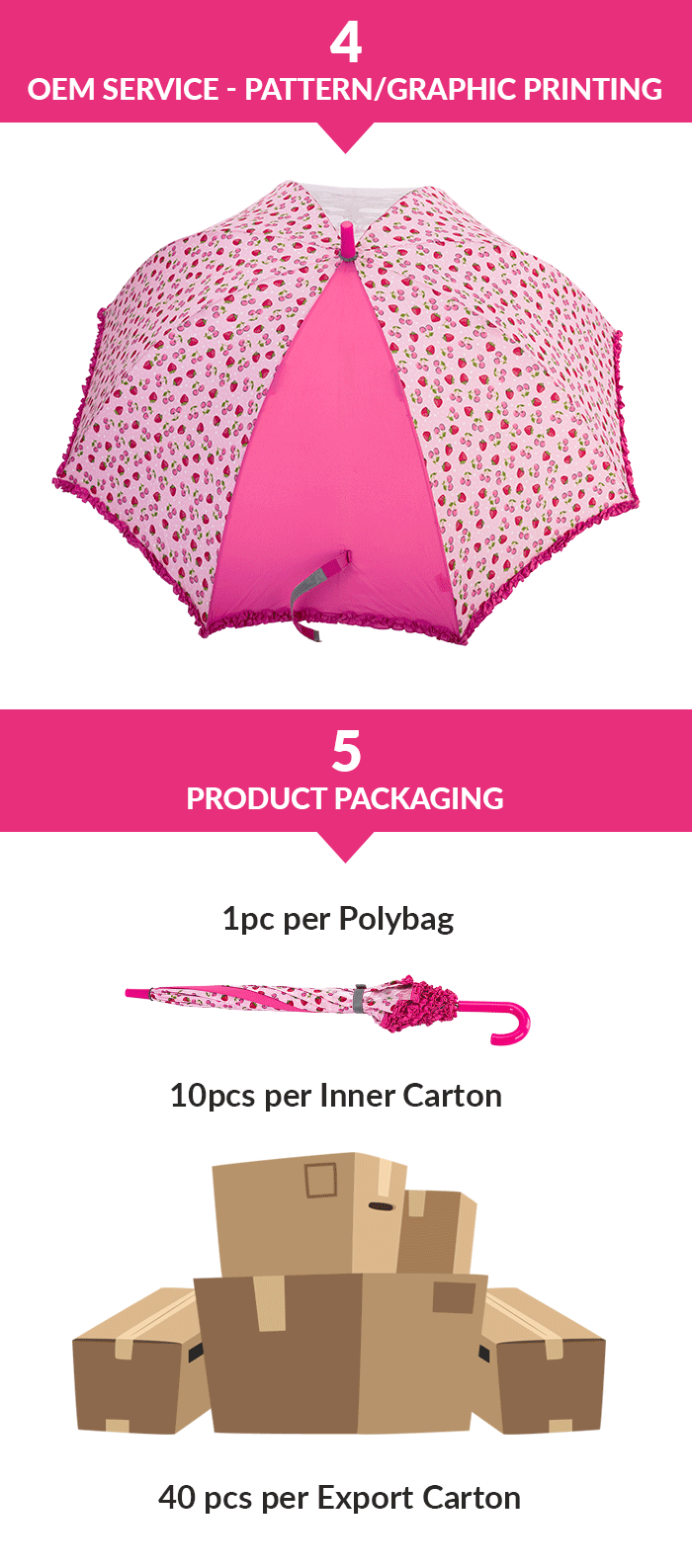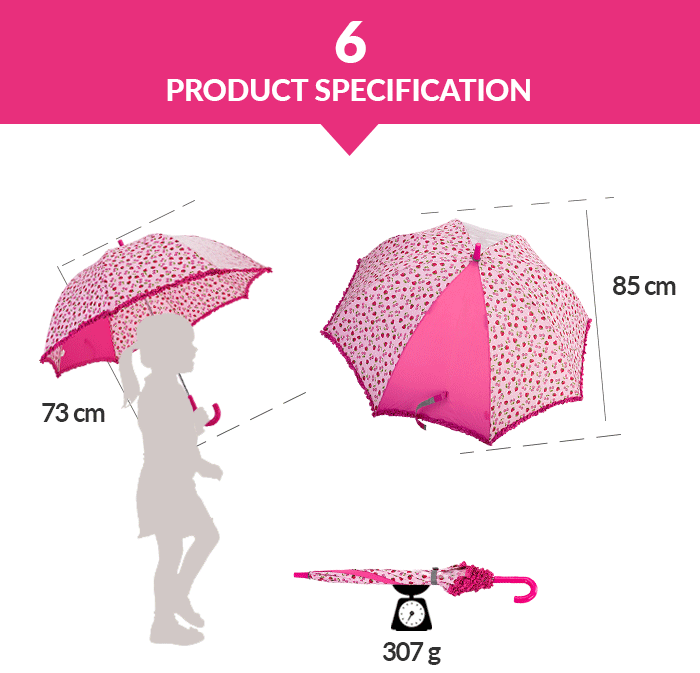 | | |
| --- | --- |
| *Details: | |
| Weight: | 307 g |
| Arc.: | 55 cm |
| Diameter: | 85 cm |
| Height: | 73 cm |
| Sleeve: | Optional |
| | |
| Fabric: | Pongee |
| Waterproof: | Yes |
| Water-repellent: | Yes |
| | |
| Frame: | |
| Shaft: | Metal |
| Ribs: | Fiberglass (FRP) |
| Handle: | Matching Color Plastic |
About us
We are a Taiwanese company specializing in manufacturing various upmarket and designer brand umbrellas. Our company's mission is to achieve the highest standard of quality in the field and to go above and beyond our client's expectations. Our product range from straight umbrella, pagoda umbrella, toy umbrella, folding umbrella, auto open and close folding umbrella, through to golf umbrella; from Children size to Adults; from Men umbrella to Women's umbrella.
You can be assured of the best outcome and smoothest development process to market with the help of our team of experienced and knowledgeable Umbrella Masters.
Umbrella Production Procedure: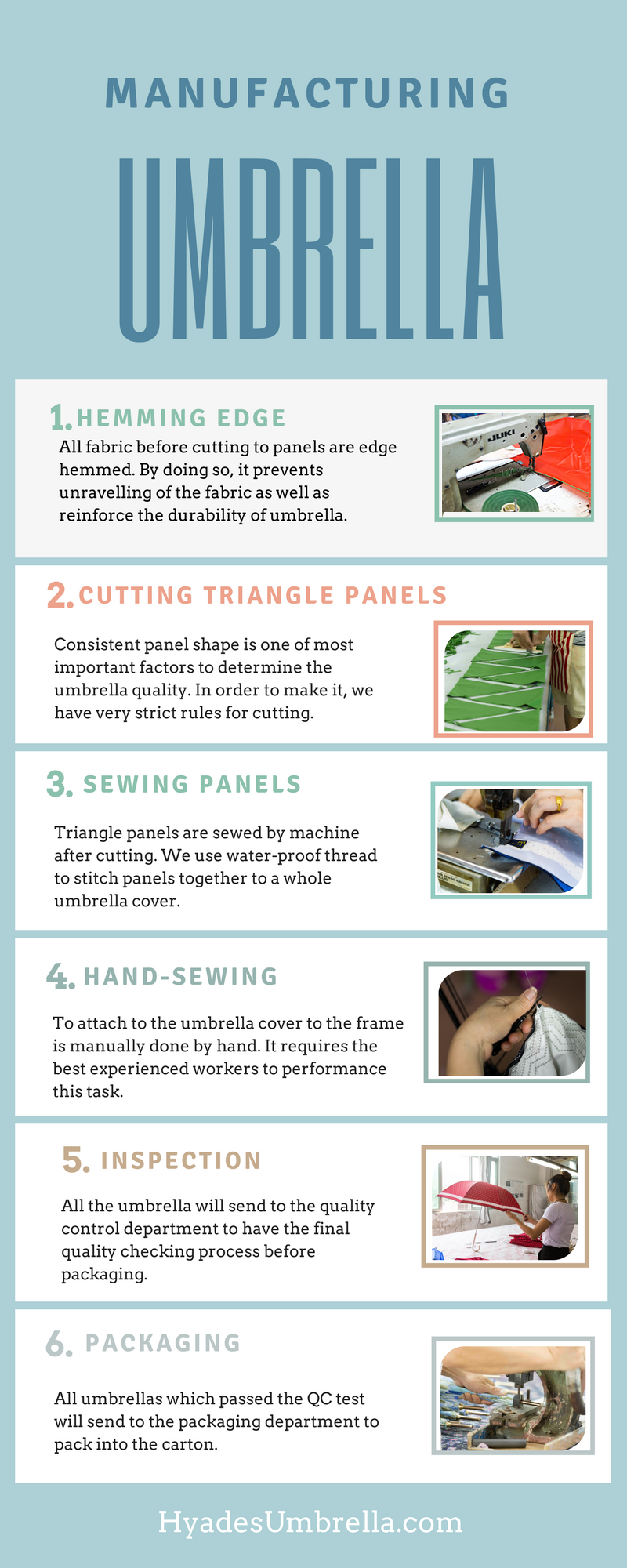 PRODUCTOS POR GRUPO : Paraguas de niños > Paraguas abierto de seguridad para niños